Accordance 14 is here! If you haven't reserved your upgrade, you can do so on the Accordance 14 Upgrade page. If you pre-ordered or just bought Accordance 14, you can download the Windows or macOS installers to your laptop or desktop computer now!
Note that the Accordance 14 download will install over your copy of Accordance 13. If you want to keep both, rename Accordance 13, possibly by doing something as easy as adding "13" to the file name.
We're really excited about the release of Accordance 14. Over the days to come look for videos, webinars, and more content regarding the details of this new release. In the meantime, here is an overview of a small number of new features with more to come!
Dynamic Word Study
Writing an exegesis paper? From any morphologically-tagged original language Text or translation with Key numbers, you can launch the new Dynamic Word Study Pane. From there, you can get extensive information on your word, compare texts, create charts, and pull up information from lexicons, grammars, and even journals!
---
Custom Phrasing
Need to demonstrate a chiasm in the text or try your hand at repositioning texts for discourse analysis? Maybe you just need to isolate some phrases for a passage you're teaching or preaching. Now you can use Custom Phrasing to create line breaks and indents directly in a biblical text.
---
Easy Answers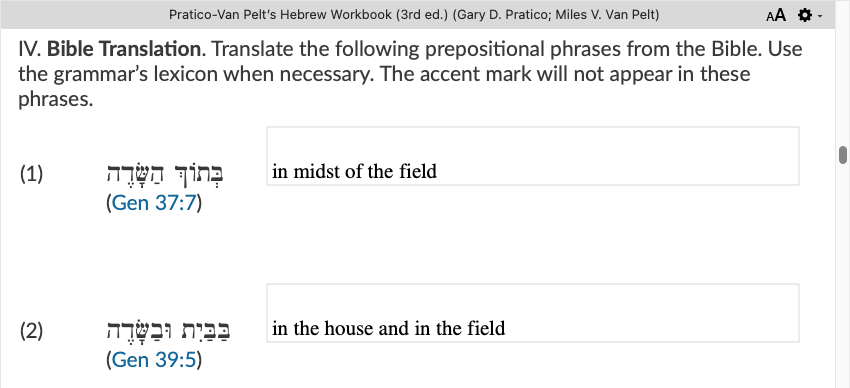 Need to answer exercises in your Hebrew or Greek grammar? Want to write down your responses to questions in a Bible study guide? The new Easy Answers feature in Accordance 14 gives you editable fields in which to record your answers right in the study guide or workbook!
---
New Citation Formats
Need to cite your sources? Now in addition to Turabian, SBL, and Simple citations we've added APA, Chicago Manual of Style, and MLA!
---
Unicode in User Tools
User Tools are now 100% Unicode-compatible. So, if you're working with Asian or other non-Latin languages, we've got you covered!
---
Quick-Click Verse Picker
Our users suggested we borrow from our mobile versions of Accordance and add the new Quick-Click Verse Picker. Not only can you navigate any biblical Text this way, you can also use it for any Text divided by chapter and verse including Josephus, Philo, Dead Sea Scrolls, and more!
---
User Dictionaries & Commentaries
Another popular request from users has been to create your own custom dictionaries, lexicons, and commentaries. Now you have these new options when creating User Tools!
---
And we're just getting started! Accordance 14 is officially released, but there are still new features to be added over the next few weeks. To keep your copy of Accordance 14 up to date, go to "Check for App Update" in the Utilities menu in Windows or the Accordance menu in macOS.