The Series
A trusted and treasured series, the Tyndale Commentary is a valuable addition to Accordance. This series is a classic and a valuable resource for Bible study, helpful to the layman and the scholar as well, and recognized as one of the best basic-level commentary series available.
The Tyndale Commentary Series was written by such notable evangelical scholars as Leon Morris, Bruce Waltke, F. F. Bruce, Wayne Grudem, John Stott, and N.T. Wright. These authors are dedicated to presenting clear, readable, section-by-section explanations of Scripture. Written with the dual aim of reaching to the depths of Biblical meaning and displaying its message clearly, the Tyndale Commentary Series digs into authorships, dates, historical backgrounds, and more. The texts are thoroughly examined. Issues relating to problems of interpretation are also clearly analyzed. Also noteworthy are the many excurses scattered throughout the text. Called Additional Notes, these short asides provide more detailed information on topics mentioned in the Biblical texts.
With a conservative, evangelical perspective, the Tyndale Commentary Series intends to bring careful scholarly research into a tool that can be accessed easily. Readers comment, "I can understand…yet I am challenged to grasp the wonderful truth," and "packed with enough information for the scholar." It is also described as "comprehensive," "excellent," and "helpful."
In Accordance
Accordance has made this valuable resource available to you today. And with the addition of some helpful features, it is now more useful than ever. The text is fully searchable by title, content, or Scripture reference, making it easy to find any place a given phrase or reference is mentioned. And as always, the Instant Details Box displays any verses mentioned in the body of the text.
The series is also hyperlinked to many various tools and texts such as Hymns, Hymn Writers, Apostolic Fathers, Josephus (JOSEPH), Philo (PHILO-E), and apologists such as Justin Martyr and Irenaeus (APOL-E).
As in any module, the user can also amplify the text by selecting a word or passage in the commentary and then choosing any tool or text from the Library.
When the series includes a chart or map, Accordance displays it as a thumbnail. This feature makes it easy for the user to zoom in and out of the graphic, exploring and navigating it at will.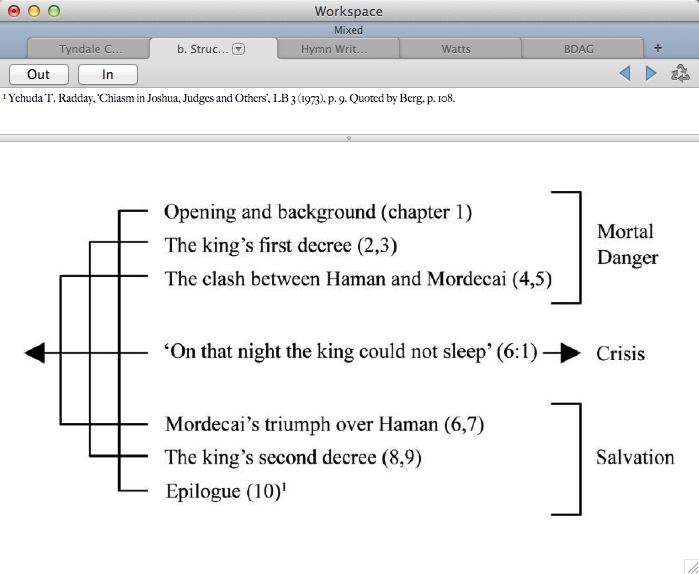 Like a growing number of Accordance modules, the Tyndale Commentary is page-numbered and compatible with Accordance 8.4 and above, meaning it is easier than ever to save text as a citation or a footnote and paste it into a new document, displaying all information needed for a complete citation automatically.
Summary
The Tyndale Commentary Series is an important addition to the Accordance library of anyone who is looking to expand their knowledge of the Bible, seeking a readable yet thorough examination of Scripture. The clear, reliable, informative commentary, combined with the helpful, intuitive, enhancing features Accordance brings, makes the Tyndale Commentary Series an invaluable resource.
Print value for the entire 49-volume set is $789.
Tyndale Commentaries
List Price $789
Regular Price $449
Buy Now
---
Contents of the Tyndale Commentaries
Tyndale Old Testament Commentaries (TOTC)
Genesis by Derek Kidner
Exodus by R. Alan Cole
Leviticus by R. K. Harrison
Numbers by Gordon J. Wenham
Deuteronomy by John A. Thompson
Joshua by Richard S. Hess
Judges & Ruth by Arthur E. Cundall and Leon Morris
1 & 2 Samuel by Joyce G. Baldwin
1 & 2 Kings by Donald J. Wiseman
1 Chronicles by Martin J. Selman
2 Chronicles by Martin J. Selman
Ezra & Nehemiah by Derek Kidner
Esther (1st ed.) by Joyce G. Baldwin
Esther (2nd ed.) by Debra Reid
Job by Francis I. Andersen
Psalms 1-72 by Derek Kidner
Psalms 73-150 by Derek Kidner
Proverbs by Derek Kidner
Ecclesiastes by Michael A. Eaton
The Song of Solomon by G. Lloyd Carr
Isaiah by J. Alec Motyer
Jeremiah & Lamentations by R. K. Harrison
Ezekiel by John B. Taylor
Daniel by Joyce G. Baldwin
Hosea by David Allan Hubbard
Joel & Amos by David Allan Hubbard
Obadiah, Jonah, Micah by T. Desmond Alexander, David W. Baker and Bruce Waltke
Nahum, Habakkuk, Zephaniah by David W. Baker
Haggai, Zechariah, Malachi by Joyce G. Baldwin
Tyndale New Testament Commentaries (TNTC)
Matthew by R. T. France
Mark by R. Alan Cole
Luke by Leon Morris
John by Colin Kruse
Acts by I. Howard Marshall
Romans by F. F. Bruce
1 Corinthians by Leon Morris
2 Corinthians by Colin Kruse
Galatians by R. Alan Cole
Ephesians by Francis Foulkes
Philippians by Ralph P. Martin
Colossians & Philemon by N. T. Wright
1 & 2 Thessalonians by Leon Morris
The Pastoral Epistles by Donald Guthrie
Hebrews by Donald Guthrie
James by Douglas Moo
1 Peter by Wayne Grudem
2 Peter & Jude by Michael Green
The Letters of John by John R. W. Stott
Revelation by Leon Morris